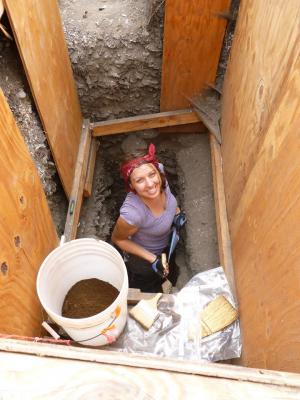 Specialization
:
Culture Contact/ Colonialism/ Postcolonialism           
Archaeology of Ethnicity/ Identity/ Gender
Craft production and specialization                         
Political economy       
Socio-politics of archaeology
Archaeological ethics
California and Great Basin
Education
:
2013-present    Ph.D. (in progress) University of California, Santa Barbara/ Anthropology with an emphasis in Archaeology
2010-2013       Master of Arts California State University, Los Angeles/ Anthropology with an emphasis in Archaeology     
Distinguished Master's Thesis: College of Natural and Social Sciences                                                                   
"A Functional Analysis of Asphaltum Utilization on San Nicolas Island: Acquisition, Processing, and Application at the Tule Creek Village Site (CA-SNI-25) San Nicolas Island, California."
2006-2008        Bachelor of Arts  University of California, San Diego/ Anthropology with an emphasis in Archaeology 
Bio
:
I am an anthropological archaeologist whose research focuses on the materiality of identity; on gender, agency, and technology; on the roles of objects and built space in shaping of everyday experience; and on community collaborative archaeology. I am especially interested in investigating these issues among the Chumash during the Colonial period.
Research
:
Identity Politics and Everyday Practice among the Chumash during the Mission Period
My research assesses the impacts of Spanish colonization on Chumash families and communities living in the Santa Ynez Valley during the Early and Late Mission period (AD 1787-1833). Archaeological data collected from within and outside the mission space are used to address three primary research questions: (1) how did Chumash peoples maintain a sense of community and core values under colonialism, (2) how do these everyday practices change from the early to latter Mission period, and (3) how do these practices manifest across the colonial landscape? My dissertation research compares indigenous craft industries, architecture, subsistence practices, and the domestic use of space from the Native dwellings at Mission Vieja de La Purisima (1787-1812) and Mission La Purisima Concepción (1812-1832) to hinterland historic Chumash villages in the Santa Ynez Valley. I primarily use existing museum collections with supplementary archaeological excavations that focus on public engagement and working with the local Santa Ynez Band of Chumash Indians. The results generated from this research can be used as a comparative to other regions across the State in order to determine the similarities and differences regarding the operation of colonialism in Alta California and determine how local groups negotiated Spanish missionization through every day quotidian acts and the ways by which this materialized in distinct ways through time and across the landscape.
Community Collaboration with Indigenous California Basketweavers
Indigenous basketweavers don't just weave baskets, they participate in deeply-rooted historical processes that create persistent communities up through the present day. In order to understand these social practices better, Kaitlin Brown, Dana Bardolph, and Jan Timbrook invited three Native California basketweavers to participate in a discussion and demonstration co-sponsored by the Society for California Archaeology Month Mini-Grants at the University of California, Santa Barbara (UCSB), as part of a "Community Matters" series organized through the UCSB Interdisciplinary Humanities Center. This event facilitated an open discussion between anthropologists and contemporary basketweavers in order to better understand the practices and processes involved in basketweaving and the reasons why indigenous peoples continue to weave today. This event is currently being transcribed.
Forthcoming publication: "Communities of Practice and Persistent Craft Traditions: Past and Present Perspectives on Indigenous California Basketweaving"
Socio-politics in Archaeological Practice
As a member of the UCSB Gender Equity group led by Dr. Amber Vanderwarker, I am particularly interested in a reflexive approach to archaeological practice. I am working on a paper entitled "Gender, Race, and Mentorship: A Perspective from California Archaeology" that uses qualitative and quantitative data to understand the differences in men's and women's experiences with mentors in the academy. I am also interested in addressing questions related to ethical issues in co-authorship and publication, diversifying archaeology, and working with local indigenous groups.
Publications
:
2018    "A Song of Resilience:" Exploring Communities of Practice in Chumash Basketweaving in Southern California. Journal of California and Great Basin Anthropology 38(2):143-162. Kaitlin M. Brown, Jan Timbrook, and Dana N. Bardolph.
2018    Crafting Identity: Aquisition, Production, Use, and Recycling of Soapstone during the Mission Period in Alta California. American Antiquity 83(2):244-262.
2016    Asphaltum (bitumen) production in everyday life on the California Channel Islands. Journal of Anthropological Archaeology 43:66-76.
2014    Sourcing archaeological asphaltum (bitumen) from the California Channel Islands to submarine seeps.  Journal of Archaeological Science 43:66-76. By Kaitlin M. Brown, Jacques Connan, Nicholas W. Poister, René L. Vellanoweth, John Zumberge, Michael H. Engel.
2014    Linking the artifact to the activity: Tarring pebble classification and use of asphaltum on San Nicolas Island, CA.  Journal of California Archaeology 6(1):1-22. By Kaitlin M. Brown and René L.Vellanoweth.
Other Publications
2018     Gender, Race, and Mentorship: A Perspective from California Archaeology. Journal of California Archaeology 10(2): 187-209.
2018    The UCSB Gender Equity Project: Taking Stock of Mentorship, Equity, and Harrassment in California Archaeology through Qualitative Survey Data. Journal of California Archaeology 10(2). Amber VanDerwarker, Kailtin M. Brown, Toni Gonzalez, and Hugh Radde.