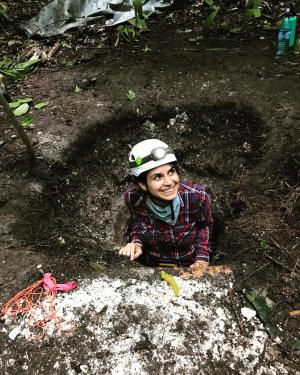 Specialization
:
Ritual                                                                              
Landscape Utilization/Interaction
Sacred geography
Iconography
Traditional Ecological Knowledge (TEK)
Ethnoecology
Subterranean archaeology 
Education
:
Ph.D., pursuing - Anthropology, University of California, Santa Barbara
M.A., 2017 – Anthropology, University of California, Santa Barbara
B.A., 2012 – Anthropology, California State University, Los Angeles         
Bio
:
I am an archaeologist working in the southern Maya Lowlands of Belize, Central America. My research interests include; sacred geography, diachronic trends in ritual, and human interactions with the environment. I am especially interested in the complex process in the use of landscapes that is mediated by intellectual functions, such as knowledge and cosmology, and organized by social institutions. To get at these perspectives that are very different from western ideals, I aim to incorporate Mayan perspectives of landscapes, accessible through iconography and the hieroglyphic record, in order to provide an intellectual perspective on the environment that we can test against the actual lived experiences found through the material record. 
Projects
:
Contested Caves Archaeological Project (CCAP)
My current project is at Mulch'en Witz (Hill with Many Caves), located within the periphery of the ancient Maya site of La Milpa in northwestern Belize, and lies roughly one-kilometer northeast of the civic-ceremonial center. The space is unique in that the landscape is modified to represent a large hill. Scattered throughout the hill, are many chultuneob, subterranean man made chambers, associated with platforms and small structures – appearing to formalize the space.
During the 2017 field season, CCAP set out to gather preliminary data that would essentially map out the multi-year project at PfBAP. This research hopes to address some open-ended questions in regards to subterranean space. One thing we do know about chultuneob is that previous hypotheses are incorrect or lacking material evidence. We know they are not storage receptacles because the cultural remains we are encountering are telling us otherwise. The question becomes, what were they used for? The goal of this project is to map out the known chultun network starting out at La Milpa and expanding it to include the Rio Bravo Conservation Area region by creating a database storing all past and previous chultun research. By doing so, we can begin to answer questions regarding broader socio-political patterns. Could chultuneob suggest a rising commoner/middle class, where all strata in different socio-economic contexts controlled ritual? Once radiocarbon dating is conducted, perhaps it can expand our current understanding about settlement patterns or ritual intensification to combat social/political/environmental changes or upheaval.
Socio-Politics Within Archaoelogy
In addition to Maya archaeology, I am currently working with Dr. Amber VanDerwarker and fellow graduate students on a project that goes beyond fieldwork and seeks to understand the power dynamics related to field harassment and gender equity within the field of archaeology.